Mind Set #1
So… you are ready to do a gig. Your confidence is high. You have practiced and refined. You have learned as much as you can about the venue, and have created a set list that covers all contingencies. Your instruments and equipment are in good shape. All your tech-head ducks are in a row. You feel good about the whole upcoming experience. Let's double-check.

Here are some primer points made with many assumptions. The foremost being that you don't know much about the situation that you're getting in to. If you're familiar with the folks, venue, and equipment, some of these points may be moot. If this is indeed your first gig, don't worry, it gets easier with experiences.
Venue
If you can, visit the venue at which you are to perform as often as possible. "Get your feet wet," as they say. Learn what crowds are drawn and meet the folks that work there. Get a general feel of the place. Notice the size of the room, layout, and acoustics.

If it is a far-flung festival or the like, learn as much as you can through their web-sites or from folks that have attended before. Ask questions, make notes! Many venues, especially festivals and fairs, will require you to fill out some forms, contracts, technical requirements and map of your (band) setup.

If it is to be an "electrified" gig, talk to the "sound guys" and find out what kind of equipment they use and require you to have (their contact info is usually on the paperwork of festivals and fairs). If they aren't used to dealing with such a weird instrument , a little advanced warning may be appreciated by them, and good for your sound. (see electrified below) [anecdote side bar 1> what I use etc. & Email me.]
Gig Sets
(instruments and song list) You have practiced with certain 'harps and learned to trust them. Make sure you have them within reach and have the key easy to see. (Mark your steel 'harps with a metal-ink pen or wire markers; brass, bamboo, and other types, with a fine-tip, permanent, felt-tip marker. Avoid bleeding ink. Mark the side that you see when picking them up.) Have back-up 'harps in case one or more should not sound "right" on stage (instruments and players DO change with temp and humidity). I have my loudest "acoustic" set with me at all times… just in case.

[See sidebar 2 > boiling lips] [See sidebar 3 > power outage]

The songs you play, and the order in which you play them (your set list), can be just as important than how you sound. Who was before you? Who is after you? Have you asked? If you care about these things, it's best to think about them before the fact. Time your songs to make sure they fit the gig slot. Pick different ones and/or have a few extra up your sleeve to use off the cuff. Save some good ones for encores or fill-in time. Always "leave 'em wanting more."
Acoustic or Electrified? Acoustic A trumpist in an acoustic environment may have a hard row to hoe. Your choice of instruments may make the difference. As I said previously, I ALWAYS have my best acoustic set at hand. I know these 'harps and can trust them. [See sidebar 4; what makes an gig set?] I know how to change their pitches with a the touch of the thumb; their nuances, weaknesses and strong points. In a pinch I can rely on these 'harps to get me through any situation. But… I may wish to use other specific 'harps for their nuances. Their particular sounds.

When considering what instruments to use, think about whether or not all your fancy riffs will be heard. Find the 'harps that fit the venue (as described above) and have some back-ups ready.
Electrified
Being an "electrified trumpist" has its challenges. It is one thing to stand in front of a microphone and wail away, another thing altogether to electronically feed your unique, possibly processed, sound to the audience or mixer-board. The technical details must be accounted for.

Be in the habit of practicing with the equipment you will use. Read the manuals and know how to hook everything up to other equipment. If you aren't a tech-head, find someone who is. The bottom line is that you don't want the gig spoiled because you don't know what you're doing.

Practicalities Travel light! Or as light as possible. Unless you have a bunch of roadies at your whim, the fewest trips to the vehicle, the better. Take only the instruments and gear you really need,. Have tools, spare cables and adapters available if you need them (I have "emergency bags" for such situations; usually left in the truck, but go everywhere).

It may seem silly to mention that a trumpist requires an ample supply of good mints and liquid refreshment. Make sure you have both. Have a good time wherever you find yourself. Make sure you are comfortable before and after.

Mind Set #2 You are ready to do a gig. Your confidence is high. You have practiced and refined. You have learned all you can about the venue, and have tailored a great set list. Your instruments and equipment are in good shape. All your tech-head ducks are in a row. You feel good about the whole upcoming experience.

Hear well. Play well. Be well.

Here's to a great gig. Boing!
4 - What Makes a Gig set

^ Mark's Gig Set - Ready to travel

Yes, the label is misleading

^ Mark's Gig Set - Most used trumps, plus a few to show off (Russian Potkin Altai, Multi-leaf Chinese Brass sets, Szilyágyi Tibet).

Mark's Gig Set

Szilyágyi BlackFire Low-D

Szilyágyi BlackFire Low-A

Szilyágyi BlackFire Mid-D

Horzing Coal Black Mid-D

Horzing Jakutic Mid-E

Horzing Jakutic Mid-G

Horzing Coal Black Mid-A

Horzing Coal Black Hi-C

Bass Dan Moi in D

Dan Moi around an E

Lee Hmong around an A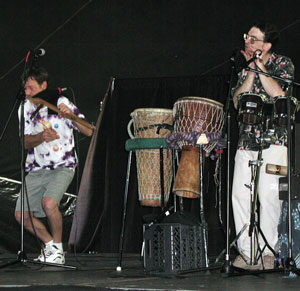 Wayland and Mark with The OddTones at Boise River Festival 2002
1 – Mark's Gig Electronics